The Great Fremantle Race is a wonderful event — part charity food drive, part parade, part obstacle course, part roving performance and all costumed shopping cart race: an epic spectacle of supermarket proportions.
The Great Fremantle Race will see Kings Square filled up to the brim with decorated shopping carts. Prospective racing teams must wear their brightest matching costumes and fill their cart with groceries, which will be donated to Fremantle-based charity St Patrick's Community Support Centre. Then they'll be off and racing around a course filled with unlikely obstacles, thrills and spills.
Points will be earned for successfully navigating the course and obtaining the best time — however the major points to be scored will be for costumes, music and of course — cart decoration.  There are cash prizes for the winners and a great extravaganza for all to watch unfold.
A big thank you to South Fremantle IGA for their generous support of The Great Fremantle Race with the loan of shopping trolleys.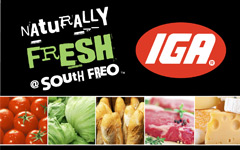 Where
Kings Square | William Street, Fremantle
When
Sunday 5 November | racers start 4pm
More Information
The Great Fremantle Race – Rules
Registration
Registrations for the Great Fremantle Race have now closed. If you have a team enquiry please contact Ken Allen kena@fremantle.wa.gov.au.
FREE